Boston's Premiere 80's Pop Saxophone Duo!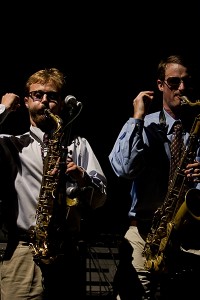 "Ronald Reagan" aims to revitalize America's economy by promoting large tax cuts, moderate deregulation, reductions in inflation, and a revival of 80's pop music. Following undistinguished careers in film, actors-turned-saxophonists Kelly Roberge and AlecSpiegelman recruited an ensemble of Boston's finest rock musicians to the 13-piece ensemble that they named "Ronald Reagan". However, only a short time into the bands existence, the sidemen went on strike, violating a band regulation prohibiting critical players from striking. Declaring the situation an emergency, analogous to those described in the 1947 Taft Hartley Act, "Ronald Reagan" held a press conference in which Kelly and Alec stated that if the musicians "did not return to work within forty-eight hours, they have forfeited their jobs, and will be terminated." Two days later, "Ronald Reagan" fired the 11 striking musicians who had ignored the order to return to work. Historians cite this as one of the biggest setbacks to the power of organized labor in 80's pop cover band history.
"Ronald Reagan" currently performs as a saxophone duo, and is currently seeking Boston's finest (non-union) musicians to complete the band in anticipation of a 2011 tour to Grenada.
"Spiegelman and Roberge cast a wry eye and a keen sax over 80's pop music, from new wave to, um, the theme from "Ghostbusters."  -Boston Globe
download our album here
visit Ronald Reagan …